Nature's Sunshine Products
Hongqu
Chinese Red Rice
Supports the body's normal ability
to regulate cholesterol
---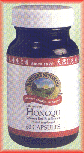 Hongqu
A New Approach to Healthy Cholesterol Levels!
Cardiovascular disease (CVD) is the number one cause of death in the United States, claiming more than 1 million lives annually. High cholesterol levels have been linked to this condition, and many health professionals recommend annual cholesterol check-ups for people who have, and are at risk for, CVD.
INGREDIENTS

NSP Hongqu contains a pure, concentrated powder extract of Chinese red rice. We have added vitamin C and lemon bioflavonoids for their antioxidant benefits.

THE NSP ADVANTAGE


Our concentrated powder extract offers greater potency (standardized to 1.5% HMG-CoA reductase inhibitors) than competitive products on the market. Three capsules of NSP Hongqu provide the same level of mevinolin as four capsules of the leading competitor's product. In addition, NSP offers the important antioxidant benefits of vitamin C and lemon bioflavonoids. These extra advantages are yours exclusively through Nature's Sunshine.

HOW IT WORKS


NSP Hongqu is a natural byproduct of fermented red rice that supports the body's normal ability to regulate cholesterol. Our Hongqu offers nutritional support to the circulatory system. Hongqu is additionally formulated with important antioxidant nutrients that can have a positive influence on cholesterol production in the body, especially regarding low-density lipoproteins (LDL) and plaque.
Preventing heart disease and other cardiovascular complications requires dedication to a conscientious program. This might include decreasing saturated fat intake, exercising, increasing dietary fiber intake and using natural supplements that help the body maintain safe levels of cholesterol. Since approximately two-thirds of total blood cholesterol is manufactured inside the body, it makes sense that inhibiting the body's cholesterol production would help maintain optimal levels in the blood.

RECOMMENDED USE


Each bottle of Hongqu contains 60 capsules, a 20-30 day supply. Each capsule provides 215 mg of the concentrated extract plus 185 mg of vitamin C and lemon bioflavonoids. For maximum effect, take one capsule two or three times daily with a meal.

USER CARE


Hongqu is for adults only. Please read warnings on the label carefully. People with, or at risk for, liver disease should not use this product. Stock# 555-4 60 capsules
Research suggests that people who have high cholesterol in middle age may continue to be at high risk for heart disease in spite of cholesterol declines they may experience later in life. Take steps to regulate your cholesterol before middle age.

Click Here for ordering information, listed alphabetically

Click Browser's Back Button to go to Previous Page.

Click Here to return to frame#2 of the Home Page.
HOME
Reference: Nature's Sunshine New Product Flyer August 1998