Nature's Sunshine Products
Juice Factory 2000
Is More Than Just A Machine....
It's A Philosophy For Better Living
---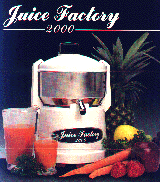 Why a Juicer?

SUPERIOR NUTRITION
One tall glass of fresh juice provides you with the equivalent benefits from eating several pounds of fruits and vegetables.
QUICK ENERGY LIFT
The nutrients contained in a glass of fresh juice are absorbed within minutes, requiring almost no digestion as with solid foods. You will feel an immediate energy boost right when you need it.
DIET CONTROL
Low calorie, fresh vegetables and fruit juices should be included in any weight reduction program to provide vitamin and mineral nourishment while lowering caloric intake.

YOU'LL LOOK BETTER
The extra nutrients contained inn fresh juices are vital in producing a clear and radiant complexion, healthy teeth and gums, strong bones, glowing hair and a vibrant alertness.
EASES CHEWING AND DIGESTION PROBLEMS
Individual with problems such as these can once again enjoy the taste and health benefits of vegetables and fruits by drinking an easy-to-digest liquid.
HEALTHY CHILDREN
Finicky eaters will enjoy drinking many delicious and nutritious juices.
SAVE MONEY
Prepare fresh juices in your own home that are tastier, more nutritious..and cost much less than other juices.

| | |
| --- | --- |
| Unique Features | NOTE: The Juice Factory 2000 is not available in stores anywhere! |
| | |
| --- | --- |
| HIGH YIELD: | The Juice Factory 2000 extracts the maximum amount of juice per pound of vegetables and fruits. It extracts 20-30% more juice than pulp-ejector type juicers according to independent laboratory tests. |
| 15-YEAR GUARANTEE: | The Juice Factory 2000 is guaranteed against defects in materials and workmanship for a fifteen-year period. |
| ALL AMERICAN MADE: | The Juice Factory 2000 is manufactured and assembled in the United States. |
| PULP-FREE JUICES: | Unlike a blender or a liquefier, the Juice Factory 2000 actually separates the juice from the pulp. |
| SUPERIOR STABILITY: | The Juice Factory 2000's exclusive design eliminates 'walking' and virtually all vibration when in operation. |
| EASY TO CLEAN: | The Juice Factory 2000 can be washed in a few minutes. |
| STAINLESS STEEL CONSTRUCTION: | From start to finish, your freshly prepared juice will contact only surgical stainless steel. |
| LARGE CAPACITY: | The Juice Factory 2000 allows you to make juice for the entire family in only one preparation. |
| ULTRA QUIET, SMOOTH OPERATION: | Precise balancing and only the finest engineering assures you a smooth, quiet operation every time. |
| CLASSIC MODERN APPEARANCE: | The durable contemporary design of The Juice Factory 2000 will accent any kitchen decor. |
| HEAVY DUTY CONSTRUCTION: | The Juice Factory 2000 is U.L. approved for both home or commercial use. |


Click Here for ordering information, listed alphabetically.

Click on Browsers Back Button to return to previous page

Return to Index of Products

Return to Main Page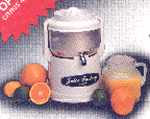 Citrus Attachment is an Optional Attachment.
---
Ref: Nature's Sunshine Product Flyer