Now That's Some
Serious Fat Grabbing!
---

Satisfied Fat Grabbers Users Lose 220 Pounds

by Michael Morris








N ature's Sunshine's famed Fat Grabbers continues to grab headlines ... and fat.
As one of our most popular products, Fat Grabbers is anchored solidly in NSP's list of top sellers. That comes as no surprise, judging from Fat Grabbers contributions to an effective weight-management program.
Fat Grabbers success results from its unique ingredients: a combination of fat emulsifiers chickweed and lecithin and the high-quality fiber found in guar gum and psyllium hulls.
Chickweed and lecithin break down dietary fat, allowing the guar gum and psyllium hulls to more easily grab it. The result is minimized dietary fat absorption, as well as improved weight management, health and self-esteem.
Just ask anyone who has teamed up with Fat Grabbers to win the fat fight.
"Watch the Weight Melt Off"
While many overweight people merely dream about escaping the "big 'n tall" clothing stores, Stephanie Ferrell of Elizabethton, Tenn., knows for herself the freedom that comes from slimming down.
In less that two years, she lost 150 pounds, going from a size 26 to a svelte size 6-8. Impossible? Not with Fat Grabbers.
"I had always been big, and for years I tried to lose weight but was unsuccessful. One Sunday at church I met up with District Manager Dwayne Ward." Stephanie said. "When I told him about my diet and how slow and hard losing weight was, he told me about a new Nature's Sunshine Product. I thought I'd give it a try."
It wasn't long before Stephanie had lost about 20 pounds. "From there, the weight started to melt off," she said.

"I have been given a second chance. I've had people come up to me and say, 'You don't even look like the same person.' My self-esteem has risen greatly."

Her quick success with Fat Grabbers inspired her to improve her eating and exercise habits. Stephanie began walking regularly, and although she felt she could eat "basically anything I wanted," she limited her consumption of red meat, avoided junk food and stopped eating large evening meals.

"Fat Grabbers is primarily responsible for my weight loss. It got me on track," Stephanie said. As she lost the weight, she found her self-esteem.

"I can't begin to tell you what a difference Fat Grabbers has made in my life. I feel that I have been given a second chance. I've had people come up to me and say, 'You don't even look like the same person.' My self-esteem has risen greatly."

Because Fat Grabbers may not work as quickly or as well for others, Stephanie suggests that people be patient.

"You have to be ready in your mind and give Fat Grabbers a chance to get into your system. Don't give up after a month," she said. "Keep working on staying in shape the rest of your life. Just because I've lost weight doesn't mean I can start eating anything again. I would like to tell everyone who has a weight problem to give Fat Grabbers a chance. Drink plenty of water, walk, eat right and watch the weight melt off."
---
"Fat Grabbers is Excellent"
Ask Area Manager Jack Welch about his old scale-busting eating habits, and he'll tell you that he truly belied his days of weighing less than 200 pounds were over.
Of course, that was before he tried Fat Grabbers and opened his Ye Olde Herb Shop in Akron, Ohio.
Jack had used natural health products for years, but it wasn't until last August that he discovered Fat Grabbers. The discovery coincided with his decision to get serious about weight management.
Combining Fat Grabbers with NSP's Chinese Fen-Chi, Jack went to work. In seven months, he lost approximately 70 pounds. For the first time in more than 20 years, he weighs less than 200 pounds.
"I went from a size 54 to a size 38," said the active 69-year-old. "Fat Grabbers is an excellent addition to any weight management program!"
Encouraged by the weight loss, Jack is now working out in a gym. "I'm losing maybe 1-2 pounds every week. I want to get down to 180 pounds, My family is extremely pleased with the program I am on."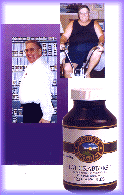 He attributes part of Fat Grabbers' effectiveness to the psychological impact of the product's name.
"Fat Grabbers makes you think twice about what you eat. As soon as you pick up the capsules, you think fat," said Jack, who once had little problem devouring a whole bag of crispy cheese snacks in one sitting. "I used to snack out of habit, but I've lost my desire for snacking. And I eat less these days."
He uses Fen-Chi only periodically, but he stays on Fat Grabbers. "It's important to use them consistently," he said. "To encourage your body to burn stored fat, you have to reduce your fat intake and increase your activity level. I keep Fat Grabbers with me, especially if I know I'm going to eat something fatty. At home, I keep them next to the salt and pepper shakers."
As the owner of a natural health store, Jack is convinced he would be doing people a disservice if he didn't practice the principles of healthy living. "If people look at me and see a big, fat slob, then I'm dragging them down," he said. "But if they look at me and say, 'If he can lose weight, so can I,' then I'm helping people."
Thanks to Fat Grabbers.

Click Here for ordering information, listed alphabetically

Click Browser's Back Button to go to Previous Page.

Click Here to return to Index of Products Page.
Main Page
Reference: Sunshine HORIZONS Vol. 23 No. 5 May 1998